Events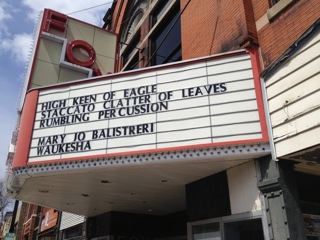 Photo by John Hartman

Mary Jo has been a featured author at readings and special events around the country including the Writers at the Beach Conference in Delaware, Genesee Depot's Cornerstone, Ten Chimneys (where she has been a docent for eleven years), and at fundraisers benefitting the Waukesha Food Pantry and the Waukesha Women's Center. Mary Jo is available for poetry readings and presentations individually and as part of the Grace River Poets, a faith-based poetry trio she founded with Anjie Kokan and Liz Rhodebeck. The mission of Grace River Poets is to use poetry as an outreach ministry by sharing their personal stories and poems in an effort to provide healing.

Upcoming Events

Mama D's
every third Wednesday, 6 pm.
featured poet and open mic
Wales, WI, Main Street

Bard's Wisconsin Anthology
November 2, 2019, 4 pm.
November 2, 2019-1 pm
cento with Margaret Rozga, poet laureate
SEWI Book Festival of Books
1500 University Drive
Waukesha, WI

Wisconsin Poets Calendar reading
November 16, 2019, 2 pm
Milwaukee Public Library,
rare books room

Past Events

Bards Against Hunger
readings from the anthology
Sunday, December 9, 2018 at 1 pm
Good Harvest Market
2205 Silvernail Road
Pewaukee, WI

Van Gogh Dreams
reading from the anthology
Saturday, March 30, 4 pm
Boswell Book Company
2559 N. Downer Ave.
Milwaukee, Wisconsin

Bards Against Hunger
readings from the anthology
Saturday, May 18, 2019 at 1pm
Milwaukee Friends Meeting
3224 N. Gordon Pl
Milwaukee, WI

Cosmic Blueprint: Archetypes in Contemporary Art Event
Saturday, October 5 at Burning Bush Gallery
216 N. Main Street, Wheaton, Illinois
Two poems in this event: Warrior Women and Sleigh of Hand ( imposter)

Highland Park Poetry and Poetry Speaks
featured poets: Michael Escoubas and Mary Jo Balistreri
June 29, 2019, 6 pm.
610 Central Avenue, Suite 155,
Highland Park, Illinois

Brewed Awakening hosted by Wilda Morris
featured poets: Michael Escoubas and Mary Jo Balistreri
June 30, 2019 12:30 pm
19 West Quincy
Weston, Illinois

Book Launch Party for Mary Jo Balistreri's new book of poems,
"Still."
Wednesday, October 24th, 2018 from 2 to 4.
Cornerstone Restaurant
S43W13134 Highway 83 Genesee Depot, WI 53127


November 17 at 2pm
Wisconsin Calendar reading at the Rare Books Room in the Milwaukee Public Library,
814 W. Wisconsin Ave


Bards Against Hunger Anthology reading,
December 9, 2018
Sunday, 1 pm at Good Harvest
2205 Silvernail Road
Pewaukee, WI 53072


SEWI Book Festival
UWWisconsin, Waukesha Campus
1500 N. University Drive,
Waukesha, WI 53188
November 4 and 5
Presentation: "The New Normal," R. 129
Saturday, November 4, 2017

Milwaukee Public Library
814 West Wisconsin Ave,
Milwaukee, WI
Rare Books Room
WFOP Calendar Reading
November 18, 2017, at 2 pm.

Poetry and Prose
a reading and panel discussion
featuring Christine Swanberg, Mary Jo Balistreri, Cristina Norcross. They will read selections of their poetry writing and Kathie Giorgio will be reading a selection from her new prose. This will be followed by a panel discussing secrets of writing success. Learn how discipline, perseverance, networking, media savvy, publishing, and teaching contribute to writers' success stories.
Sunday, October 8, 2017, 1 pm.
1039 Summit Avenue
Oconomowoc, WI 53066

Join us at Books and Company in Oconomowoc, WI (1039 Summit Ave) on Sat. September 30th, 2017 at 7pm for a poetry open mic, with guest musical performances, door prizes, and a chance to come together, in unity, to support our earth through the arts. Bring 1-3 poems about world peace, social justice, environmental preservation, and healing (1page limit, per poem). All are welcome! Come join us to celebrate 100 Thousand Poets for Change!
**We will be collecting donations on the night of the event for the Oconomowoc Public Library (the Children's Dept.) My thought is that the best way to promote change is to nurture the leaders of social justice of tomorrow - our children! The funds will go towards buying age-appropriate books about the environment and social justice causes.

100 Thousand Poets for Change
We change the world by changing ourselves. It is an inside job of spiritual awareness, soul evolution, and mind revolution. How will YOU change the world with your art and words? Share your voice! Raise your inner vibration. Speak up and be heard. On September 30, 2017, a global healing celebration will be happening through a multitude of events involving poets, artists, and musicians!

Radio with Dennis Price Hotline, April, 2015, 2016
8 pm, Arlington, VA

Palmyra Powers Library Workshop-Grace River Poets
April 16 from 10 until 12—
haiku, small poems—nature poetry
115 W. Main St. Palmyra, WI

Mama D's- featured reader
104 W Main Street, Wales, WI
October 19, 2016, 7 pm.

Wisconsin Writers Fall Conference
Riverwalk Hotel—Jade Ring readers
123 E. Wisconsin Avenue, Neenah, WI
October 15, 2016

On Deck at Copper Rock Cafe
210 W. College Ave.
Appleton, WI, November 21, 2016
Featured reader with Maryann Hurtt

SEWI Book Festival
UW Waukesha
1500 North University Drive
Waukesha, WI
November 5, The Poetry People,
4 o'clock to 5, Room N130

Tuesday October 27, 2015, at 6:15pm
Oshkosh Caramel Crisp and Café, in Oshkosh, WI -- featured reader

Saturday September 26, 2015, from 10 to 11am
Lorraine Niedecker reading for Arts and Sparks at Ralph Park on High Street in Fort Atkinson.

Thursday September 17, 2015
The Open Air Art Museum Mid-West Haiku Path in Honey Run, Millersburg, Ohio opening.
Walk along the path for the Mid-West Haiku Conference and spot one of my haikus, carved on a stone along the path.

Saturday June 6, 2015, at 7pm
Reading with Door County Poetry Collective, the anthology, Soundings
Green Lake, Wisconsin

April 21, 2015, at 7pm
Dogfish Head Brewings and Eats
Rehoboth Avenue
Rehoboth Beach, DE

May 31, 2015, at 12:30pm — Sponsored by The Illinois Poetry Society and Brewed Awakening, featured poet with Mike Bayles
Brewed Awakening
19 West Quincy
Westmont, IL

November 8, 2014, at noon — a reading with The Poetry People at the South East Wisconsin Book Festival at UW Waukesha campus of the University of Wisconsin.

November 7, 2014, at 11am — A presentation of poetry at Whitewater University in Whitewater, WI in the Anderson Library Red Room for ESL students and professors.

November 1, 2014, at 2pm — Wisconsin Calendar reading at the Rare Books Room in the Milwaukee Public Library, 814 W. Wisconsin Ave.

September 21, 2014, at 3pm — Poet Mary Jo Balistreri (third from left), who winters in Naples, was one of a dozen poets featured in a "Fall for Poetry" presentation at After-Words Bookstore in Chicago last month. The reading was in honor of the fifth anniversary of YourDailyPoem.com, a website hosted by Jayne Jaudon Ferrer (fourth from right), who was born and raised in Wauchula, Florida, and lived in Lakeland, Auburndale, Boca Raton, and Madison before moving to Greenville, SC. Other poets participating in "Fall for Poetry" were Al DeGenova, Gretchen Friel, Caroline Johnson, Janet Leahy, William Marr, Wilda Morris, Susan Moss, Paula Schulz, Christine Swanberg, and Richard Swanson.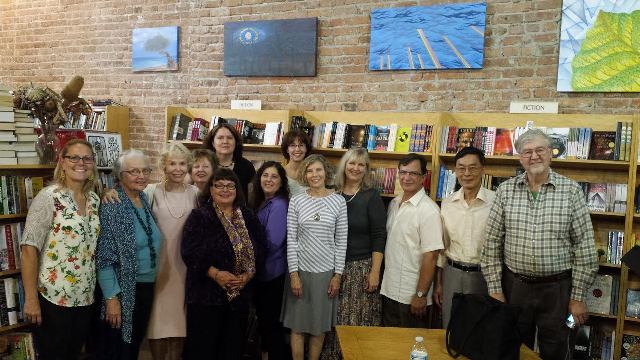 September 13, 2014, at 1pm — Celebration of publication of the anthology The Mountain with Tall Grass Writers and Outrider press.

Sulzer Regional Library Auditorium
4455 North Lincoln Avenue
Chicago
National Poetry Month Reading at Books & Company
1039 Summit Ave., Oconomowoc, WI 53066
Saturday, April 5, 2014 at 7pm
Featured reading with OPEN MIC

Featured poets: Fred Kreutz, Kim Suhr, Cristina Norcross, Anjie Kokan, Khristian Kay, Liz Rhodebeck, Janet Leahy, Mary Jo Balistreri, Paula Schulz and Kimberly Blanchette
November 2, 2013 — 2pm
Milwaukee Public Library
814 W. Wisconsin Ave.
November 9, 2013 — 1pm
Books and Co.
1039 Summit Ave.
Oconomowoc, WI 53066
November 14, 2013 — 4-6pm
Delafield Art Center
803 Genesee St.
Delafield, WI 53108
November 23, 2013
St. Mark's Lutheran Church
424 Hyde Park Ave.
Waukesha, WI 53186
June 11, 2013, at Ottawa University, 245 Executive Drive, Brookfield WI, reading and discussion of poems--Creative Writing Class from 6 to 7 pm.
July 18, 2013, at 6:30pm - Reading from Gathering the Harvest, Fort Atkinson Library, 209 Merchants Ave, Fort Atkinson, WI, 53538
Sept 4, 2013, at the Waukesha Public Library, 321 Wisconsin Avenue. A reading from Gathering the Harvest at 7 pm.
September 21, 2013, South East WI Book Festival, at Waukesha Campus of UW, 1500 N. University Drive--panel discussion with Karla Huston and Chuck Rybak on Chapbooks vs. Full Length Books--panel discussion on Saturday, September 21, 2013, at 1:30.
April 21, 2013, 9:30 - 11 AM - Ellen Kort Tribute Reading (with 15 others), Atlas Coffee Mill, 425 W. Water Street, Appleton, WI
December 20, 2012, 10am, repeated at 10pm - interview with Stephanie Lecci at WUWM, Lake Effect 89.7 (NPR) on Gathering the Harvest
December 20, 2012, 6:30pm - Fort Atkinson Library, 209 Merchants Ave, Fort Atkinson, WI, 53538
December 4, 2012 - The Plaza, Calhoun and Brookfield Rd in Brookfield, WI for the bookclub Pinot and Paperbacks
November 19, 2012 - Grace River Poets, Palmyra Methodist Church
November 14, 2012, 3pm - Reading to launch Gathering the Harvest, Cornerstone Restaurant, W31343 State Road 83, Genesee Depot, WI
November 10, 2012 - Reading for Wisconsin Poets Calendar, in the rare books room at the Milwaukee Public Library.
October 8, 2012 - Grace River Poets will present a program at United Methodist Church in Palyrma
October 6, 2012 - The Women Shelter in Waueksha, WI
October 5, 2012 - Friday Nite Live at Kathie Giorgio's AllWriters Studio in Waukesha, WI
2012 - Painted Perceptions: Past and Present/ Art and Poetry at the Oconomowoc Art Center, Oconomowoc, WI
2012 - Grace River Poets presented a program at North Prairie Methodist Church
2011 - One Vision, Collaborative Fine Art, Poetry, Dance
2011 - Book Festival, University of WI, Waukesha campus
2011 - Barnes & Noble, Naples, FL
2010 - Barnes & Noble, Phoenix, AZ
2010 - Book Festival, University of WI, Waukesha campus
2010 - One Vision, Collaborative Fine Art, Poetry
2010 - In collaboration with editor Patrick Randolph, Empty Shoes: Anthology poems/discusion, Madison, WI
2010 - Rehoboth Beach Writer's Conference, DE
2010 - The Poetry People, benefit, Women's Shelter, Waukesha, WI
2009 - Rehoboth Beach Writers Association, DE
2009 - The Poetry People, benefit, Women's Shelter of Waukesha
2008 - Book signing/reading/discussion, Genesee Depot, WI
2008 - Book signing/reading/hour talk, Ten Chimneys