Publications
Bards Against Hunger
5th Anniversary Edition
An Anthology of national and International Poets
Editor: James P. Wagner
Bards Against Hunger
An Anthology of Wisconsin Poets
Editor: James P. Wagner
Poets to Come
Walt Whitman's Bicentennial
A Poetry Anthology
Edited: James P. Wagner
Love Affairs at the Villa Nelle
Edited by Marilyn L. Taylor & James P. Roberts
Van Gogh Dreams Anthology
Editor: Lisa Vihos
From Everywhere a Little
A Migration Anthology
Edited by Dawn Hogue and Lisa Vihos
Creative Wisconsin Anthology
2019 Jade Ring & Youth Writing Contest Winners
Edited by Wisconsin Writers Assc.
Human/Kind Journal
Flash/haibun/etc.
Online
---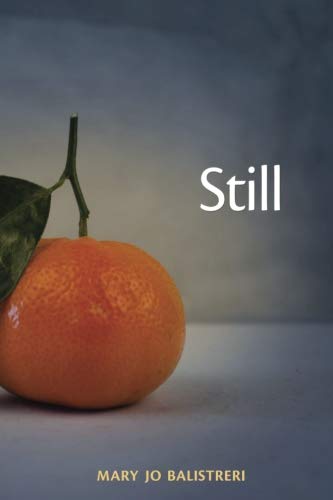 Still, published in 2018 by FutureCycle Press


The word, ?still,? like life itself, is pregnant with possibility. On one end of the spectrum, it is the ultimate stillness of death; on the other, it is generational: still, life continues. The word ?still? became for the author a synonym for the journey, with all of us riding in separate boats while traveling through the same body of water. In these poems we can acknowledge hard truths, the struggle that comes with change, knowing we are not alone. We can find solace and joy in nature, see how art and music can move us beyond ourselves, and be comforted by how we are all inextricably entwined. Along with disappointments, loss, and the unexpected, there is still love and abundance, choice, and room for praise.
---
Trigger Warning: Poetry Saved My Life anthology edited by Zachary Kluckman, "Why Poetry Matters" essay on page 94 (PDF).
Best Brothers, published in 2014 by Tiger's Eye Press

"In Balistreri's skillful hands, 'something shifts' without us knowing how or when, and tragedy not only takes on "a livable shape," but becomes larger, more mysterious and more beautiful than itself, as sudden and transcendent as a song."
--Danielle Blau, Mere Eye, contest winner, Poetry Society of America

"Mary Jo Balistreri's Best Brothers: an unflinching and brave love letter written from the American/Door County heartland, a balance of grief and hope, a collection full of joy and heartbreak for anyone who has ever been a grandparent, cherished a child or lost a child. These boys, Sam and Zach, shine brightly in the affectionate and powerful poems written by their grandmother."
--Cheryl A. Loetscher, Paralegal
Joy in the Morning, published in 2008 by Bellowing Ark Press - $14.00
Joy in the Morning is a compelling collection of poetry about family, nature, simple moments, special moments, and all the memorable minutia that is life. Mary Jo's titles offer insight into the scenes painted by her words: "Spring Comes to Saylesville Pond," "At a Jazz Bar in Denver with My Son and His Friends," "Saturday Baking at Gramma's," "The Christmas Recital." This is a fine gift for anyone who enjoys holding memories close. - Jayne Jaudon Ferrer

All proceeds from the sale of this book go to mitochondrial disease research and/or to families whose children have mitochondrial disease, to help defray their treatment expenses. Order by contacting Jo directly.
Mary Jo's poems have appeared in the following print and online publications:
Acorn
Akitso
Avocet
Bear Creek Review
Bellowing Ark
Blue Heron
Bottle Rockets
Bramble--Literary Journal of Wisconsin Poets Association
The Centrifugal Eye
Cho Online--Haibun
Chuffed Buff Books
Communion
Contemporary Haibun online
Controlled Burn
Crab Creek Review - The Poetry Issue
Cradle Songs: An Anthology of Poems on Motherhood
Current - a journal of experimental poetry published by the Bellowing Ark Society
Earth's Daughters
Echoes
Echoes Anthology
Ekprhastic Review
Empty Shoes: Poems on the Hungry and the Homeless
Failed Haiku
Five Willows Literary Review
Florida State Poets' Anthology
Flutter
Free Lunch
Free Verse
Frogpond
Goose River Anthology
Grand Piano Passion
Grist
Hedgerow
HighCoupe
Hummingbird
Hurricane Press
Illinois Poetry Anthology
Journal of Modern Poetry (an anthology) published by Chicago Poetry.com Press
Kentucky Review
The Mobius Anniversary Issue


Milwaukee Art Museum
Minerva Rising
Modern Haiku
Mom Egg Review
One Hundred Gourds
Passager - The Poetry Issue
Peninsula Pulse
The Poetry Box
Poetry Pacific
Poppy Road Review
Prune Juice
Quilt and Parchment
The Raptor Anthology
Re-Cycle Press
Re/verse
Ruminate
San Pedro River Review
Siftings
Snapdragon
Spindrift
Tall Grass Writers Guild
The Examined Life
The Healing Muse
The Herons Nest
The Homestead Review
The Muse - Wisconsin Fellowship of Poets
Thomas Merton Epiphany Book
Tiny Words
Tiger's Eye Journal
Toward the Light
Verse Wisconsin
VerseWrights
Whistling Skin Anthology - Why Poetry Matters
Whispers
Windhover
Wisconsin Poets' Calendar
White Pelican Review
Windy Hill Review
Yale Journal of Humanities, Medicine
Your Daily Poem